There are three ways to delete assets from your account:
1) Deleting assets in the Media Library
Tick the checkboxes of the assets you'd like to delete, then click the trash can icon in the blue toolbar that pops up once you've selected the assets.

Note that you can click the checkbox of an asset, then hold down the shift key and click the checkbox of another to select the assets in question and all assets in between.

2) Deleting assets using the API
You can delete a single asset using the destroy method of the Upload API or delete multiple assets using the deleteResources method of the Admin API.
More information about how to use the above two methods can be found in our documentation page on managing assets. Please note the video tutorial a little further down from the linked section which covers these topics and more.

3) Deleting assets using the bulk delete tool in the Media Library
Navigate to your settings page by clicking the gear icon in the bottom left of your Media Library, then click "Bulk delete" under "Self-Service Operations" in the righthand column. Here, you'll see several options for the kinds of assets you'd like to select and delete in bulk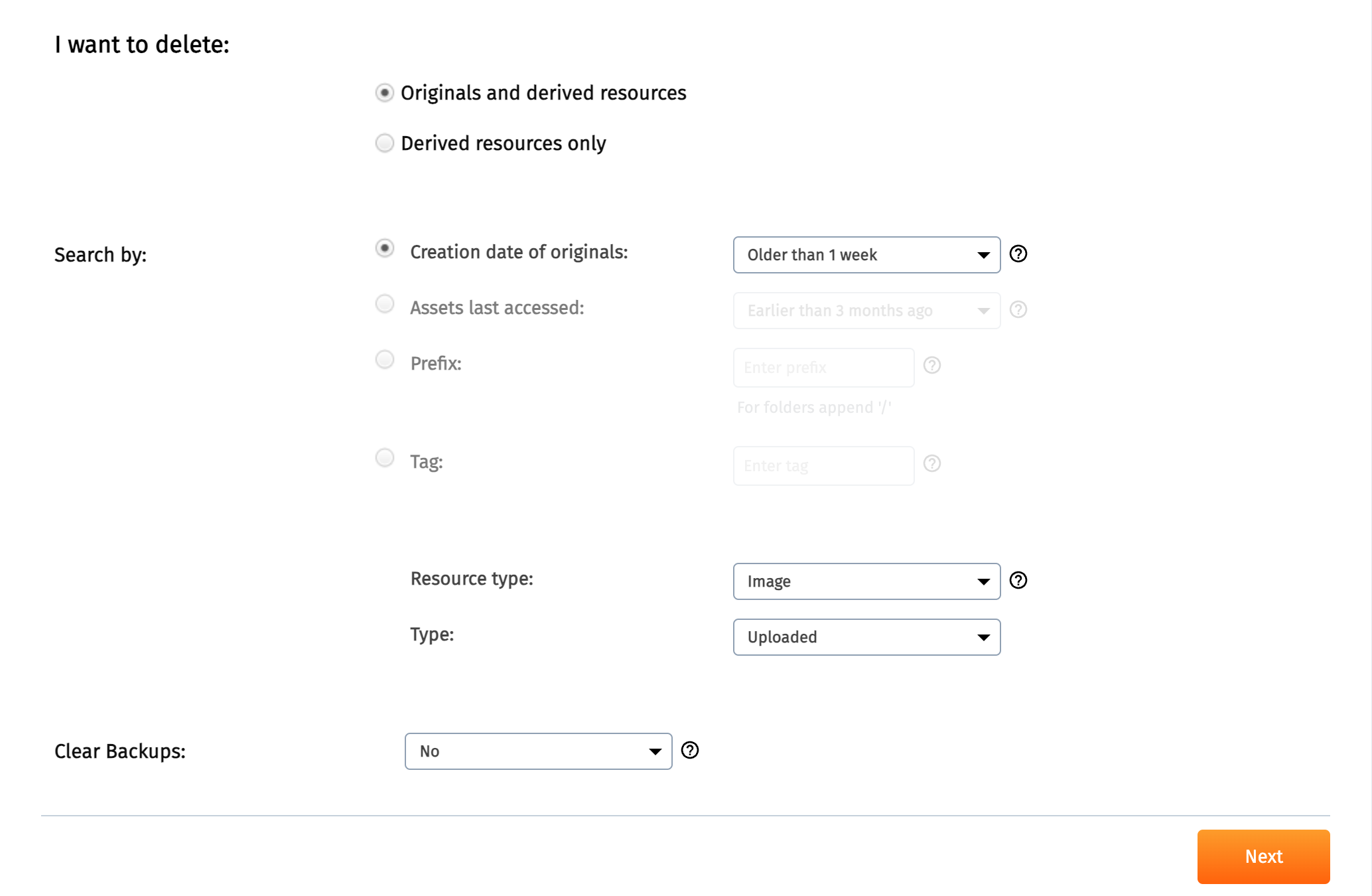 Please note that the exact options you see above may vary based on your account's settings. Feel free to submit a support ticket at support.cloudinary.com if you need any assistance with the above.
To delete all assets in a folder, use the "prefix" field. For example, if you have a folder named folder1, you would enter folder1/ including the forward slash at the end. Note that this will delete all assets in folders within that folder as well, for example folder1/folder2/image will be deleted.
If you accidentally delete assets that you would like to recover, you can submit a support ticket at support.cloudinary.com . Please note that recoveries are not guaranteed, especially if the deletions occurred some time ago and/or you don't have automatic backups enabled.