In order to create a text overlay, you can either pre-define a text style by your preference (e.g., font family, size, color, and more), or dynamically define one.
Pre-defining a text style:

You can create a text style by your choice of font family, size, color and many more parameters.
For more information:
https://cloudinary.com/documentation/image_transformations#using_custom_fonts_for_text_overlays
Text styles can be generated via the API with our integration libraries as well. For example in PHP:
\Cloudinary\Uploader::text("Sample Name",
                          array(
                           "public_id" => "dark_name",
                           "font_family" => "Arial", "font_size" => 12,
                           "font_color" => "black", "opacity" => 90));
After the text style has been created, any custom text string can be generated as a text overlay:
http://cloudinary.com/blog/adding_watermarks_credits_badges_and_text_overlays_to_images
Also, you can dynamically change the font's color:
http://support.cloudinary.com/entries/25570452-Can-I-dynamically-change-my-text-color-
Dynamically generate a text style:
You can generate a text style by your requirements on-the-fly, including font family, size, decoration and more.
Here's an example of a URL with an on-the-fly generated text style:
http://res.cloudinary.com/demo/image/upload/w_200,o_30/l_text:Arial_35_bold:Hello%20World/sample.jpg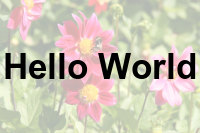 You can also set the color parameter (co in URLs) to dynamically color the font to your required color:
http://res.cloudinary.com/demo/image/upload/w_200,o_30/l_text:Arial_35_bold:Hello%20World,co_blue/sample.jpg