With Cloudinary's Adobe Creative Cloud (Adobe CC) Connector, you can easily integrate our Media Library with some of your favorite Adobe CC design software - Photoshop, Illustrator, and InDesign. Let's show you how it is done.
Tutorial Sections
---
Watch a Video
Background music provided by SPENCE.
---
Setting Up the Connector
After a quick and easy install*, you should see the Connector in your Adobe CC program's Extensions section. This is commonly in the Window menu of your program's top navigation.


Example of the Connector's location in Adobe Photoshop.
After the Connector's window is open, you need to:
Authenticate the connection between Cloudinary and your Adobe CC program.
Then, select your cloud name for linking to the program.
After that, you should be able to see all of the files in your Cloudinary account through our Media Library's user interface.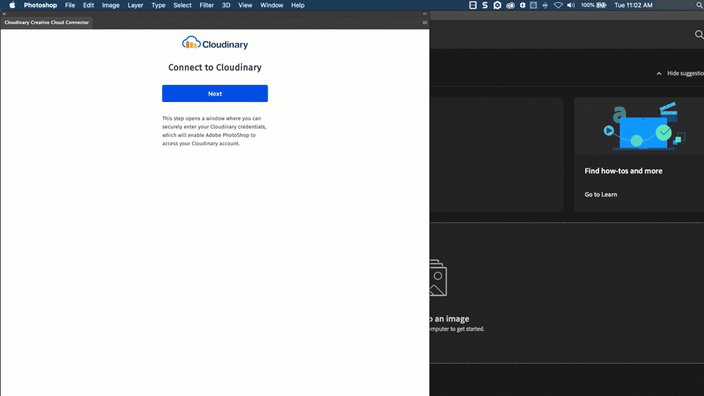 This includes files that are specific to Photoshop, such as PSDs, as well as .EPS and .AI files for Illustrator and .INDD files for InDesign - Cloudinary can store all of these types and more with ease.
We recommend selecting the Upload Preferences option before proceeding, so you know which folders you want to upload your files into. In this space, you can also specify any tags you want to add to your files, as well as designate a signed Upload Preset to be applied when adding files from any of these programs back into your Cloudinary account.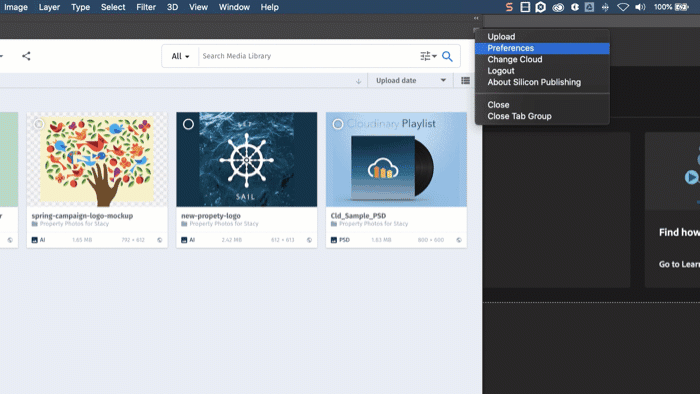 You also will receive some additional options, based on the design program you are using. For example, you can choose with Photoshop whether you want to insert the file as a new layer on an existing file or as an entirely new file. This will vary on whether you are using Photoshop, Illustrator or InDesign with the Connector.
This tutorial focuses on using Cloudinary with the Connector. If you aren't familiar with Cloudinary folders, tags, and upload presets, we recommend reviewing some of our documentation:
*You may need to receive an activation key from Cloudinary for your Connector to properly work. If this is the case for you, please contact our Support team.
Go back to the top of the tutorial.
---
Inserting Files from Cloudinary for Editing
Once you make the initial connection between Cloudinary and your Adobe CC program, the next steps are easy.* You simply need to select the asset you want to edit from the Media Library, then choose the Insert button.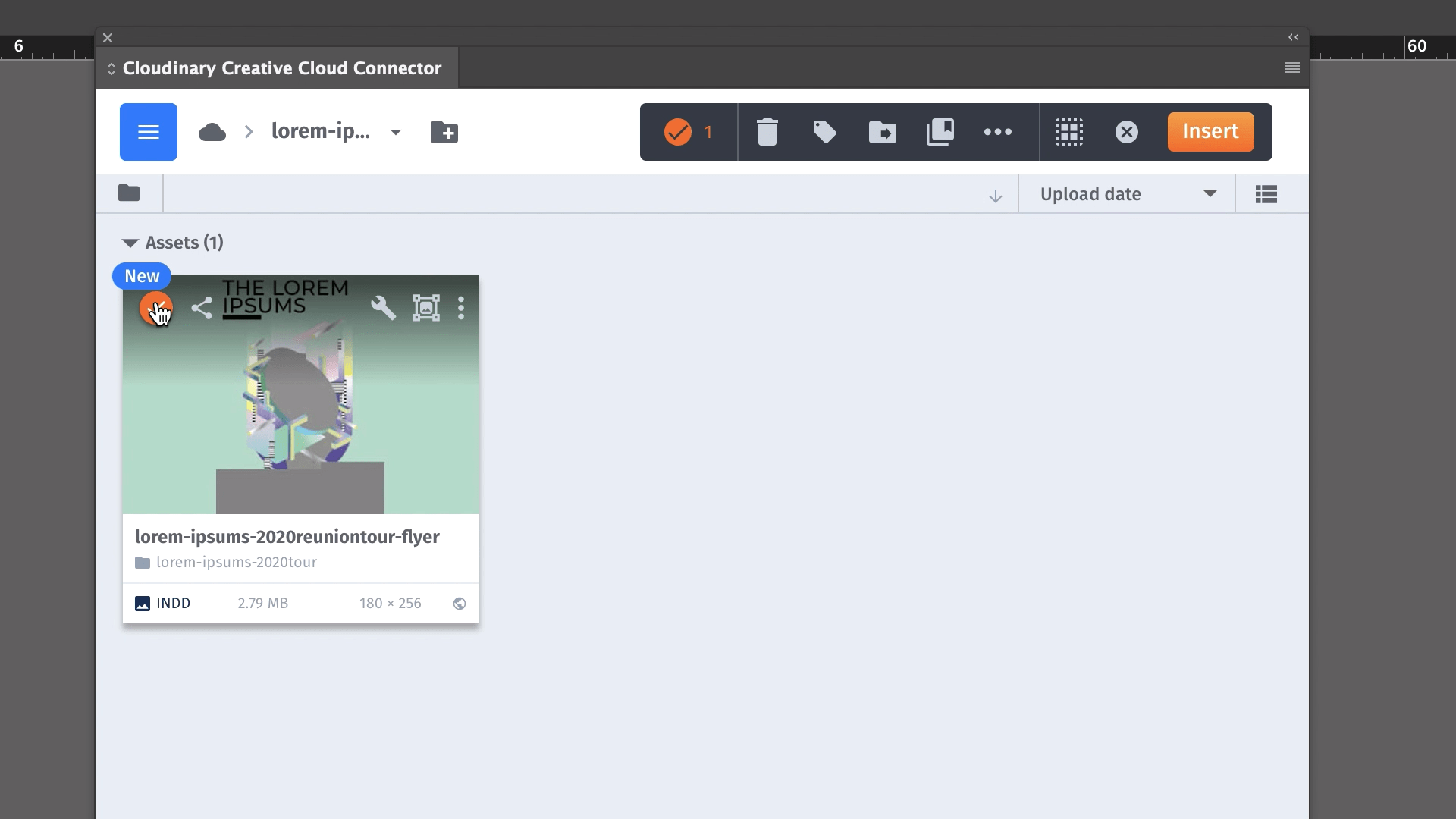 Also notice that you can manage a lot of your files from here, depending on your user permissions. This includes adding tags to files, moving the files to a new folder, editing metadata and more.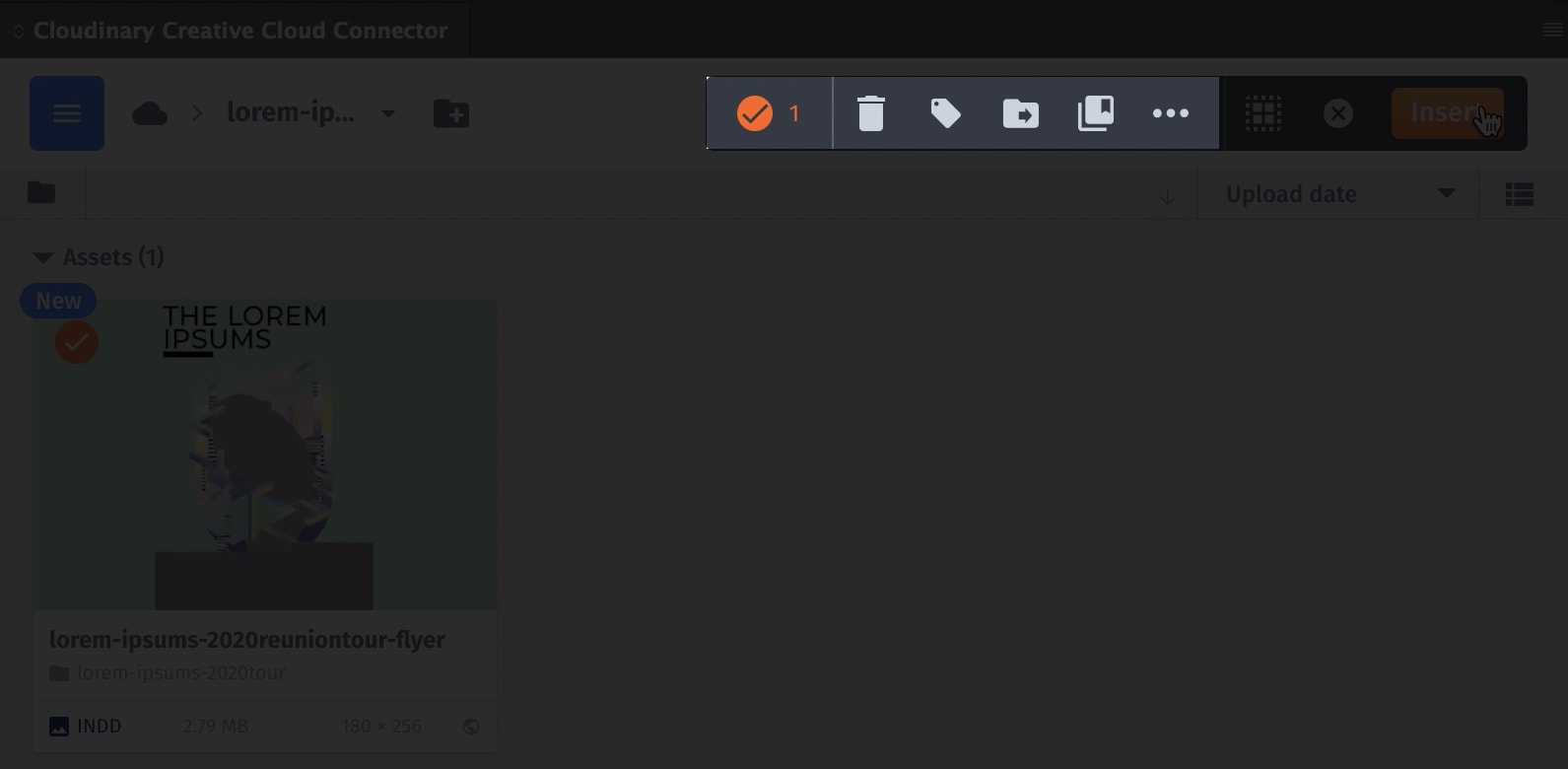 After hitting the Insert button, you can begin editing the file with your chosen program, whether it is Photoshop, Illustrator or InDesign.
Once I have made the proper edits, I can:
Simply save the file to my local storage.
Then, I'll double-check the folder location of where I want to upload it by referring to the Connector's Upload Preferences section.
After that, I'll upload it back into my Cloudinary account.
And notice I never had to leave the InDesign program at all to accomplish these tasks. The new version is available in your Cloudinary account for any other designers who need to work on it.
You would use the same set of steps for Photoshop and Illustrator too:
Find and select your file in Cloudinary.
Hit the Insert button
Make your desired edits in the design program
Save to your local storage.
Make sure you're uploading the file to the correct Cloudinary folder.
Re-upload to Cloudinary.
As you can see, easy editing and asset management are possible with two sets of amazing tools - Adobe CC and Cloudinary.
*With InDesign, there may be some additional steps to place a file from Cloudinary into an existing InDesign document. Please refer to our documentation for assistance with this task.
Go back to the top of the tutorial.
---
Additional Resources
If you need further assistance with using the Creative Cloud Connector, we have plenty of options for you. This includes complete documentation on all of its features, as well as an amazingly skilled and kind Support team that is ready to answer all of your questions and address your requests.
We hope to see you using Cloudinary and our Creative Cloud Connector for all of your future projects!
Go back to the top of the tutorial.