Tutorial Sections
WordPress is one of the most popular open source software options for running your website. You can combine it with Cloudinary's ability to manage and optimize your images, videos and other files in the cloud with our plugin.
To do so, you must first have a installation of WordPress set up and running. You can download the software and use it on your site here: https://wordpress.org/download/.
---
Watch a Video
---
Install and Activate the Plugin
Once you have WordPress installed, select the Plugins option in the left navigation menu. Then, select the "Add New" menu section.




At this point, you should be brought to the WordPress Plugin Directory. In the top-right corner, there will be a keyword search field. Type "Cloudinary" into it. The Cloudinary plugin should appear, routinely as the first plugin option in the directory. If this happens as intended, select the Cloudinary plugin's "Install Now" button. This will commonly be at the top-right corner of the plugin listing.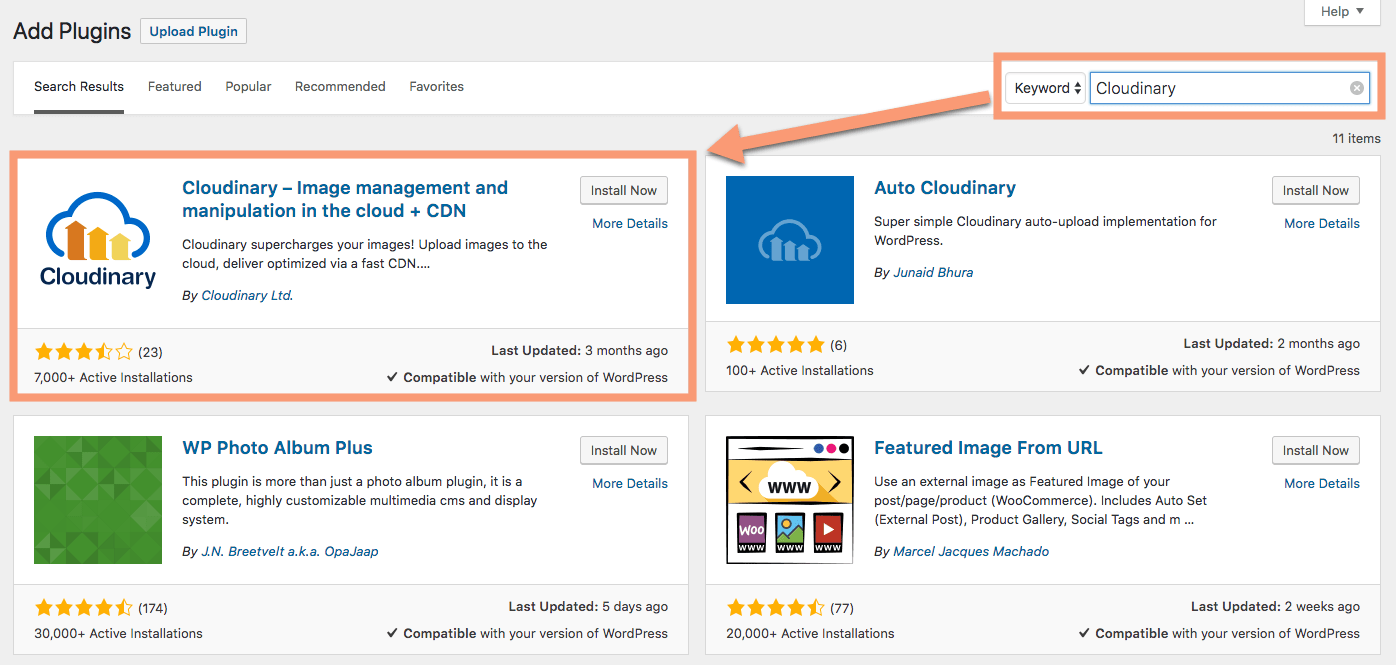 After doing so, the button will change its label from "Install Now" to "Activate". Select the button again to activate the plugin in your WordPress instance.






If you have correctly followed these steps, a Cloudinary option should appear in your WordPress left navigation menu, commonly toward the bottom of the list. Once you select it, you will be able to connect your Cloudinary account to the plugin.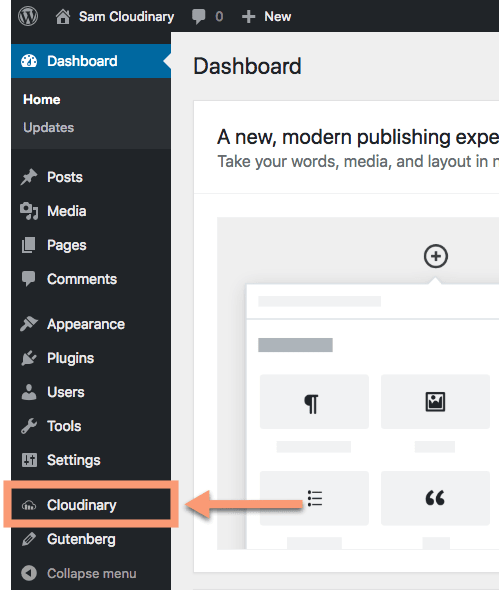 ---
Connect your Cloudinary Account to the WordPress Plugin
After successfully installing and activating your Cloudinary WordPress plugin, you have to connect it to your Cloudinary account. To do so, select the plugin from the WordPress left navigation menu, as demonstrated above.
From here, you will be prompted to enter several attributes about your Cloudinary account. They include your API Key, your API Secret and your cloud name. All of these are readily accessible in your Cloudinary Management Console on the home dashboard, specifically in the "Account Details" section.




Simply copy the required information from the Cloudinary Management Console into your WordPress plugin, using the following syntax.


cloudinary://api_key:api_secret@cloudname

You can also copy the information in the Console's "Environment variable" field and paste it into the plugin, as a second option.
If you have done this successfully, you should see a prompt in the plugin to confirm.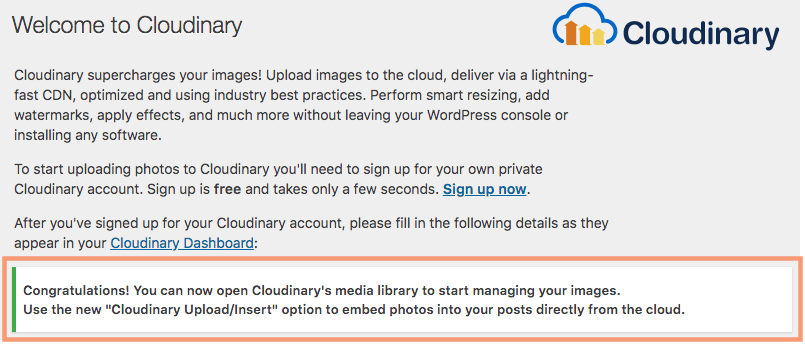 As the prompt instructs, you should now be able to open and see your Cloudinary Media Library in your WordPress.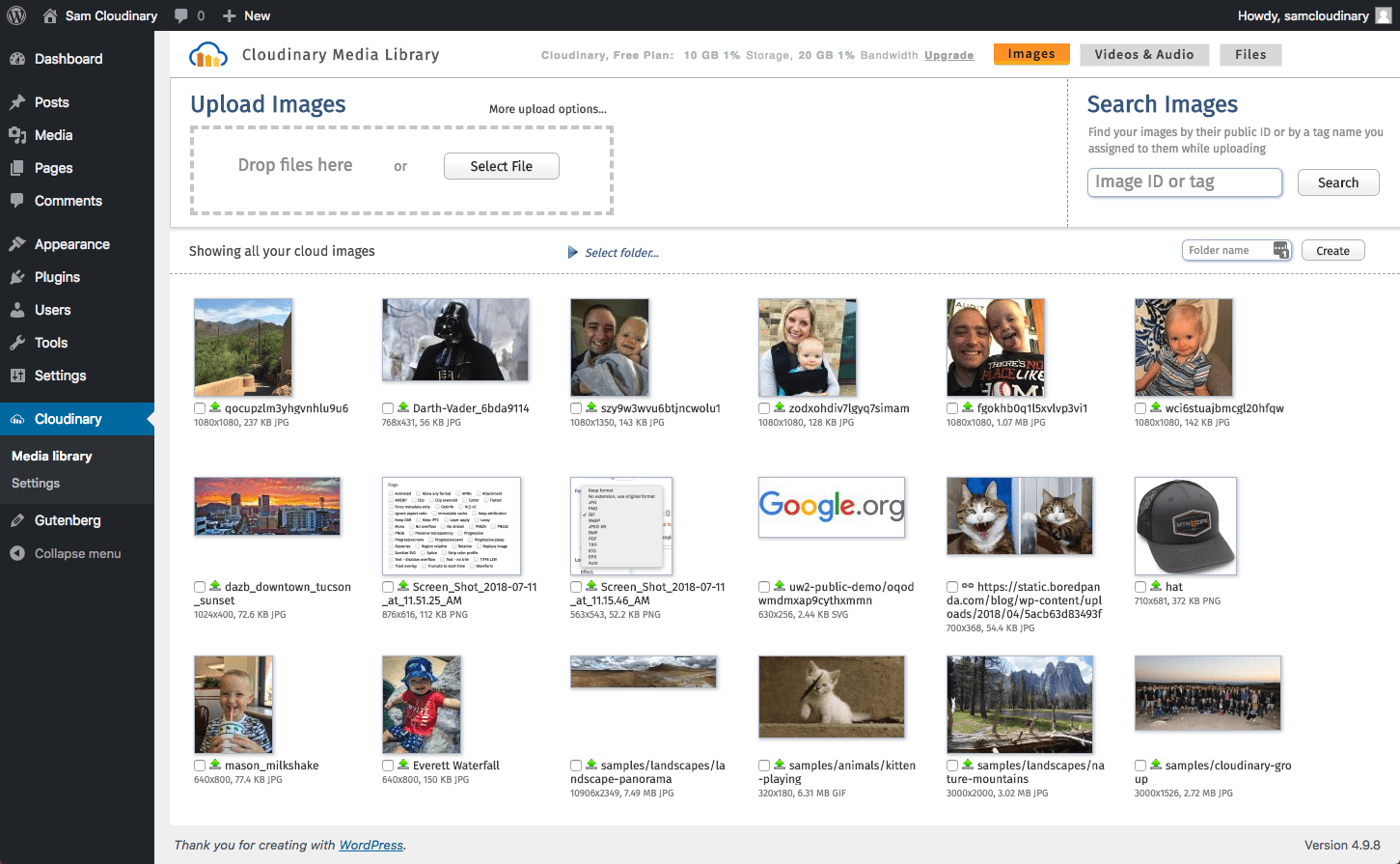 For further instructions on using your Cloudinary WordPress plugin, we recommend reviewing the additional articles in our Knowledge Base's WordPress section.