Tutorial Sections
Once you have properly installed and activated your Cloudinary plugin in WordPress, you can sync your existing WordPress Media Library content into your Cloudinary account.
---
Watch a Video
Go back to the top of the tutorial.
---
Syncing Your Cloudinary and WordPress Media Libraries
First, log into your WordPress account. Then, select the Media option in the left navigation menu. This should bring you to your WordPress Media Library.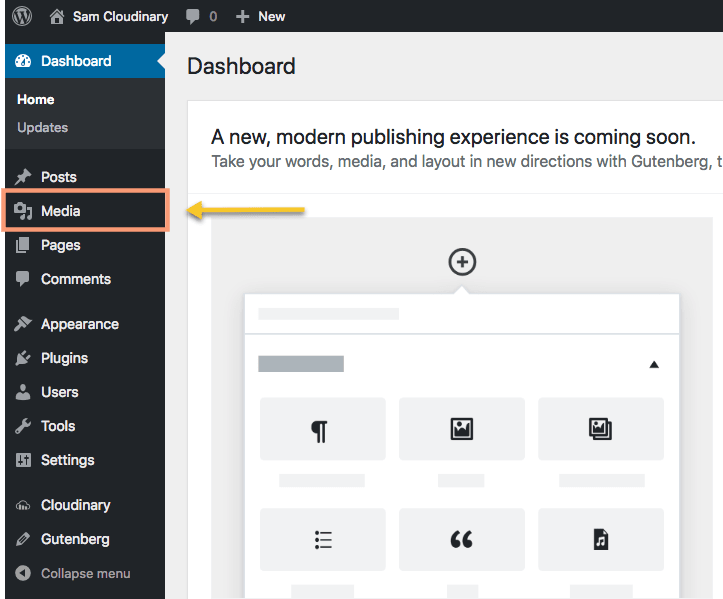 With the Cloudinary plugin installed, all of your Media Library content will have a new data column, labeled "Cloudinary".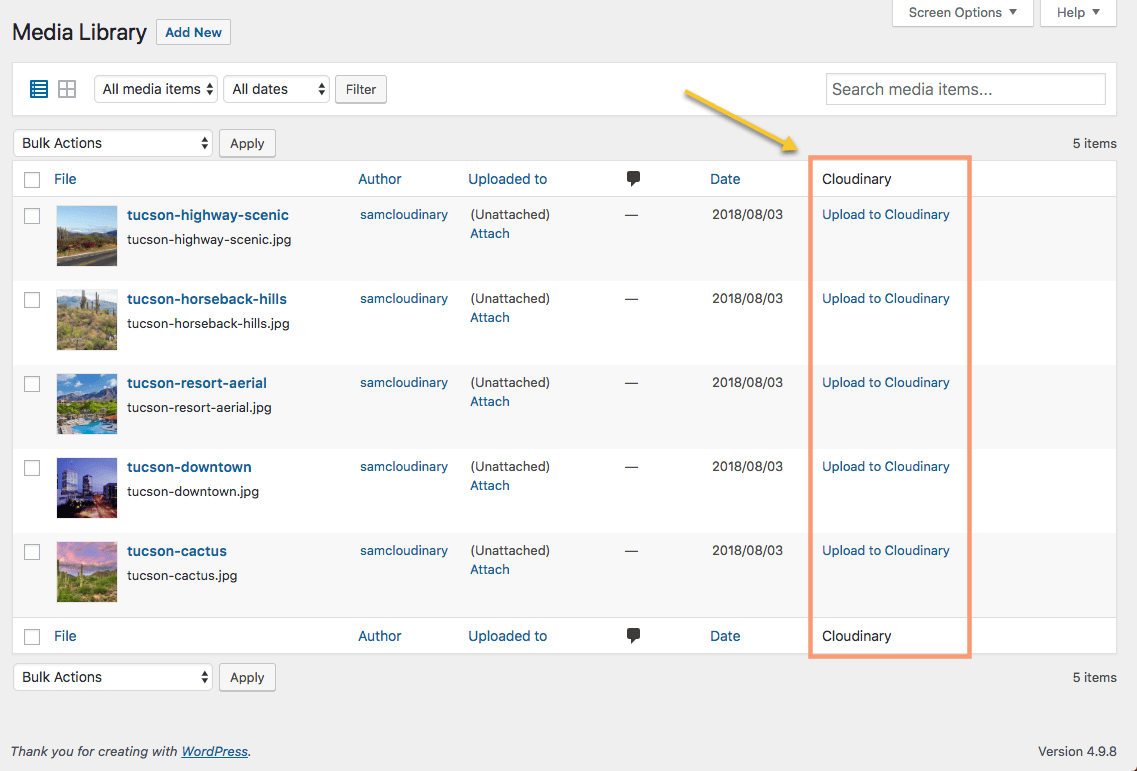 If you select a media item's new "Upload to Cloudinary" link, it will add that image to your Cloudinary account. You can tell this has been successfully done, thanks to two different indicators.
The filename will include an additional series of characters, which were added by Cloudinary. This is done

to avoid two images sharing the same public ID

.



The "Upload to Cloudinary" link will change to a Cloudinary logo and include an "Uploaded" confirmation.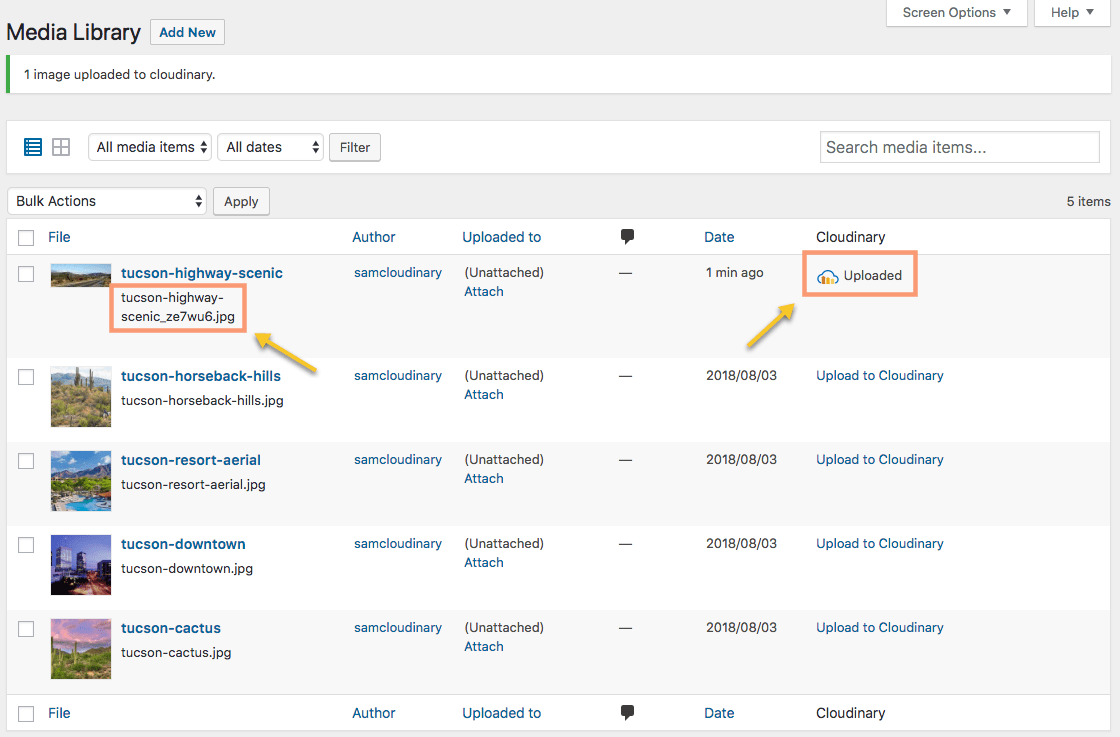 If you select your Cloudinary plugin, you should also see the new image in the list of all your cloud images too.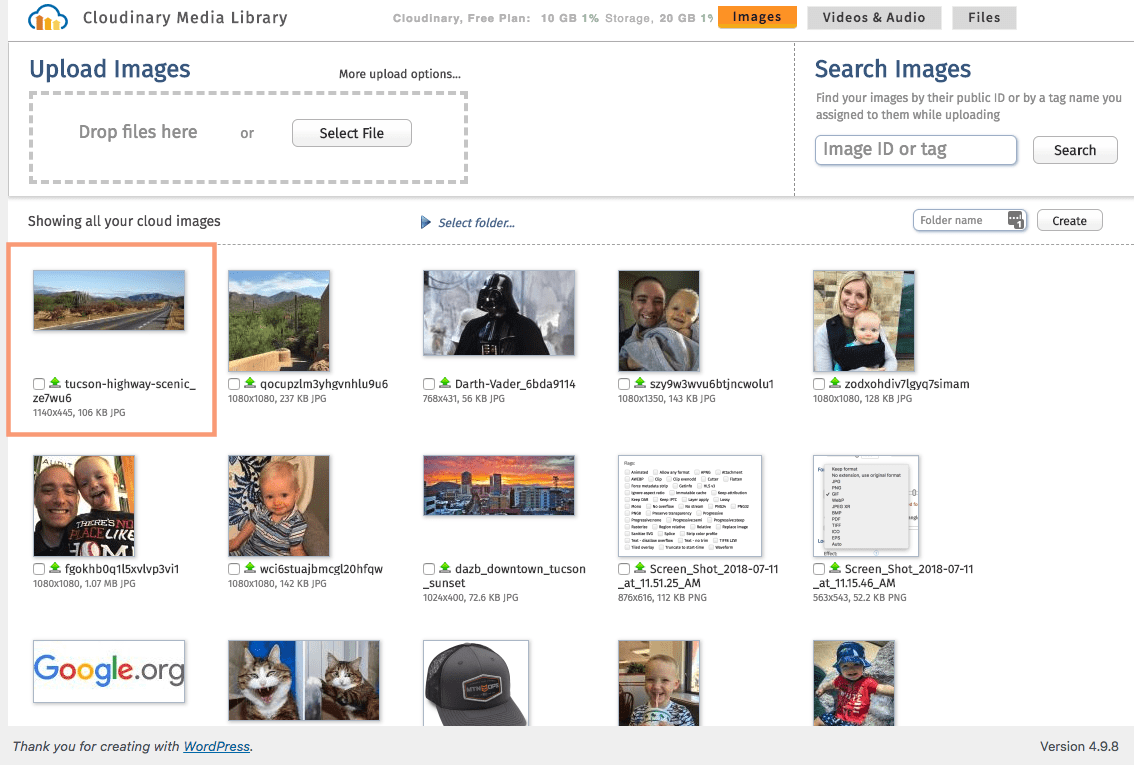 Go back to the top of the tutorial.
---
Adding Content from WordPress to Cloudinary in Bulk
You also may need to add many WordPress Media Library items to Cloudinary in bulk. To do so, first select the checkbox for each each item you want to upload. You can also select the checkbox at the top or bottom of the list to select all of the items.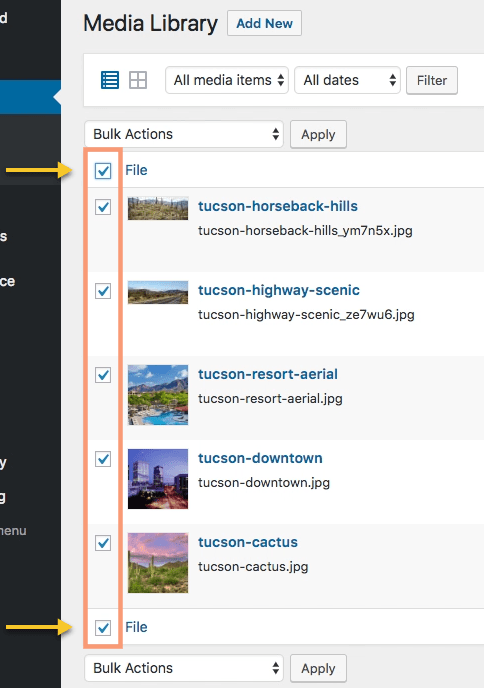 From here, choose the Bulk Actions dropdown field and select "Upload to Cloudinary".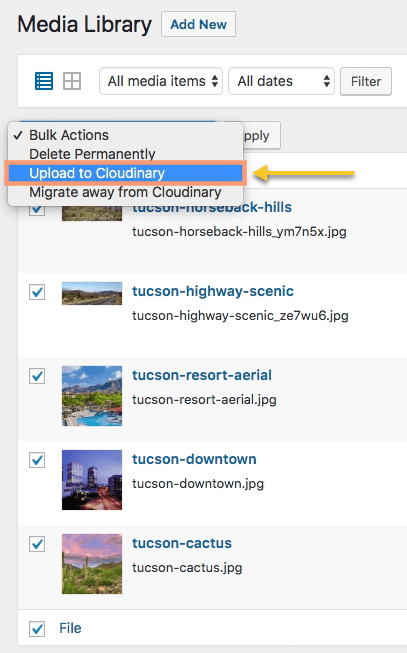 Next, choose the "Apply" button.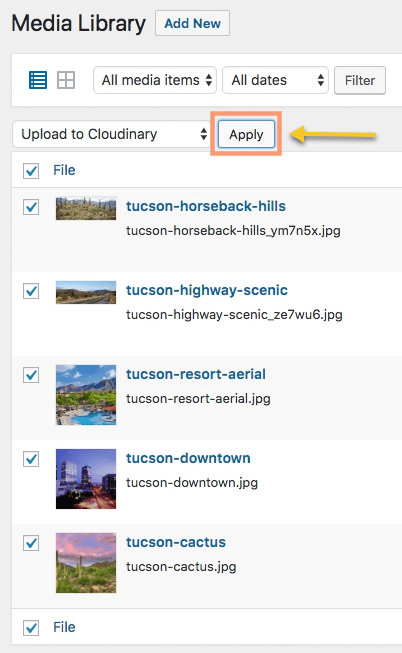 At this point, you should have successfully uploaded all of the selected content to Cloudinary in bulk. Please note that attempting to upload any content to Cloudinary that was previously synced will not override that content during a bulk upload.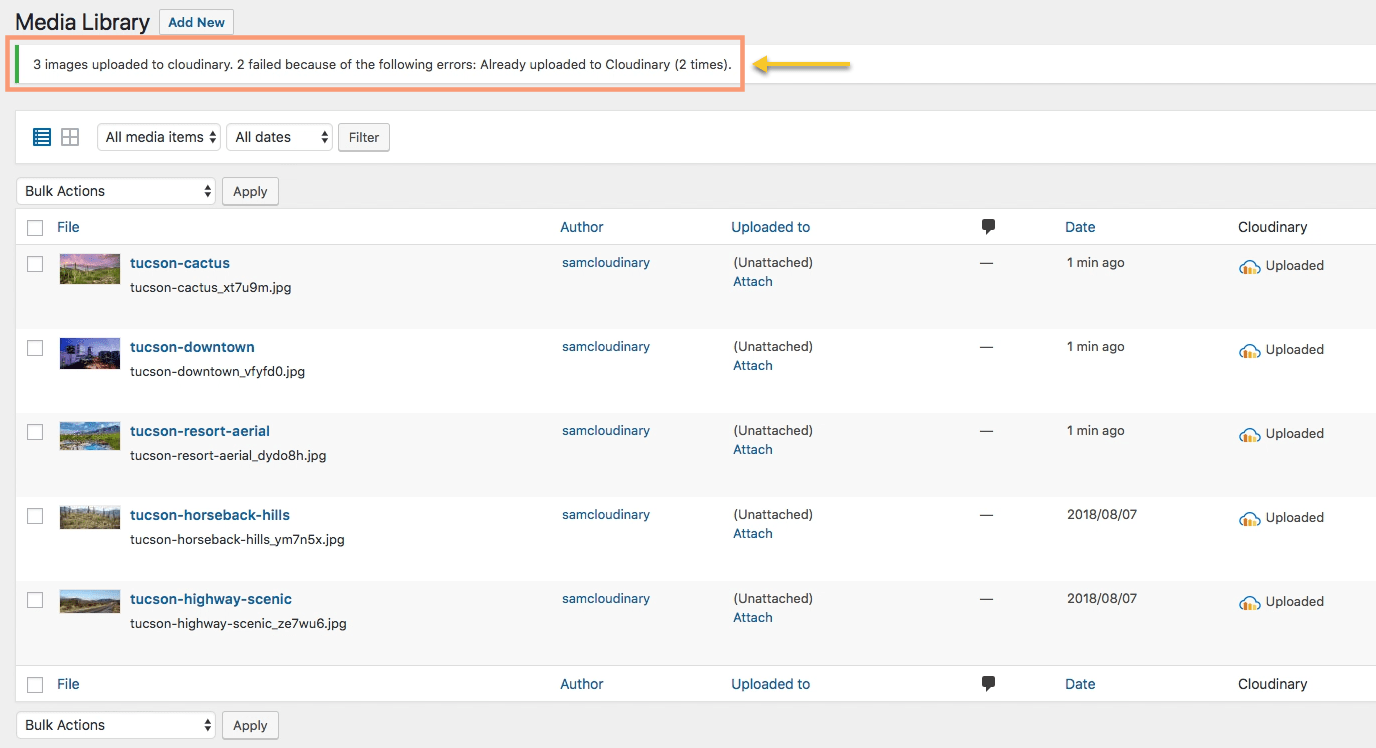 Go back to the top of the tutorial.
---
Adding Cloudinary Content to Pages and Posts
You should now be able to add Cloudinary-managed content to your WordPress posts and pages. In this example, you'll see that selecting an image for a post shows a URL that posts to res.cloudinary.com instead of the WordPress installation's domain.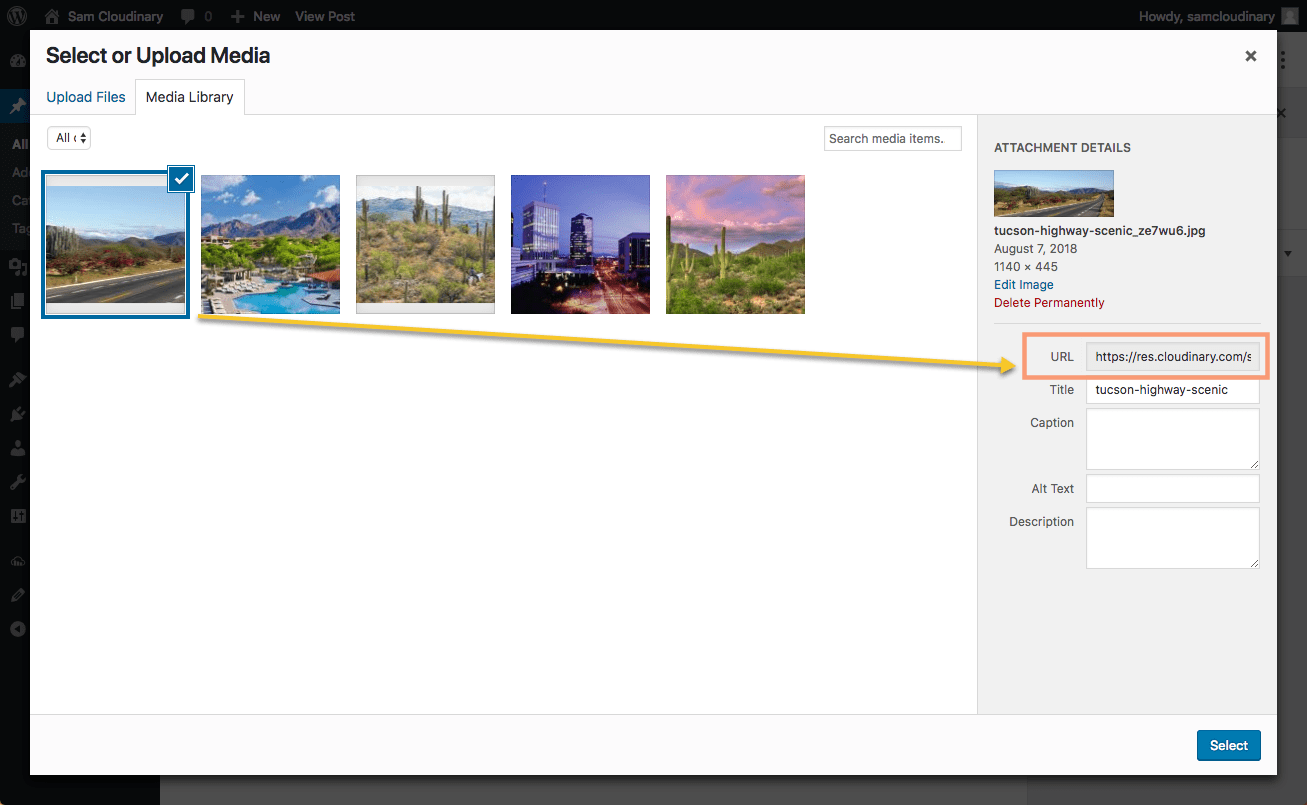 After adding the Cloudinary-managed content to a page or post, you can select your "Edit as HTML" option in WordPress. This should display the source code and allow you to make transformations, such as f_auto, q_auto or hundreds of other options.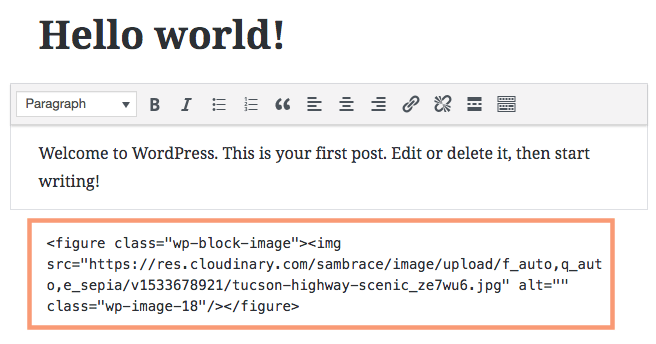 Edit as HTML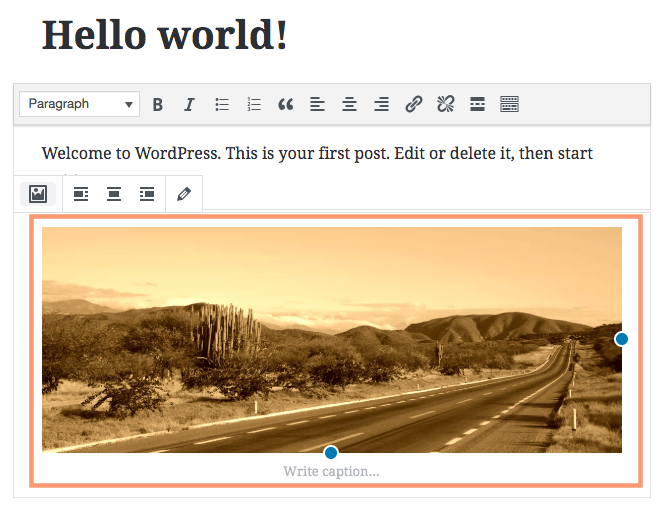 Result of applying Cloudinary transformations (f_auto, q_auto, and e_sepia) to URL

For further instructions on using your Cloudinary WordPress plugin, we recommend reviewing the additional articles in our Knowledge Base's WordPress section.

Go back to the top of the tutorial.