Sometimes you may need to access an asset, such as an image, that is not the current version. Thanks to Cloudinary's extensive backup system, it is easy to retrieve your previous iterations.
This tutorial shows you how to use Cloudinary's Management Console to retrieve an asset version from backup. For further details on Cloudinary's full backup capabilities, please review our documentation.
---
Tutorial Sections
Watch a Video
Go back to the top of the tutorial.
---
Enabling Backups in your Cloudinary Account
Cloudinary starts storing asset versions only after you enable the Automatic Backup feature.

review our tutorial on this process, especially if you have not already enabled backups or if you want to ensure you have correctly done so.
If you are trying to restore an asset version that was overwritten before enabling backups, please send us a request ticket. Our Customer Success team will work with you to determine your options.
Go back to the top of the tutorial.
---
Retrieving an Asset Version from Backup
Note: The following steps for retrieving asset versions from backup apply for all of our storage options - Cloudinary, Amazon S3 and Google Storage.
First, log into your Cloudinary Management Console. Then, select the Media Library tab.

recommend checking your account settings and ensuring you have set up our Automatic Backup feature.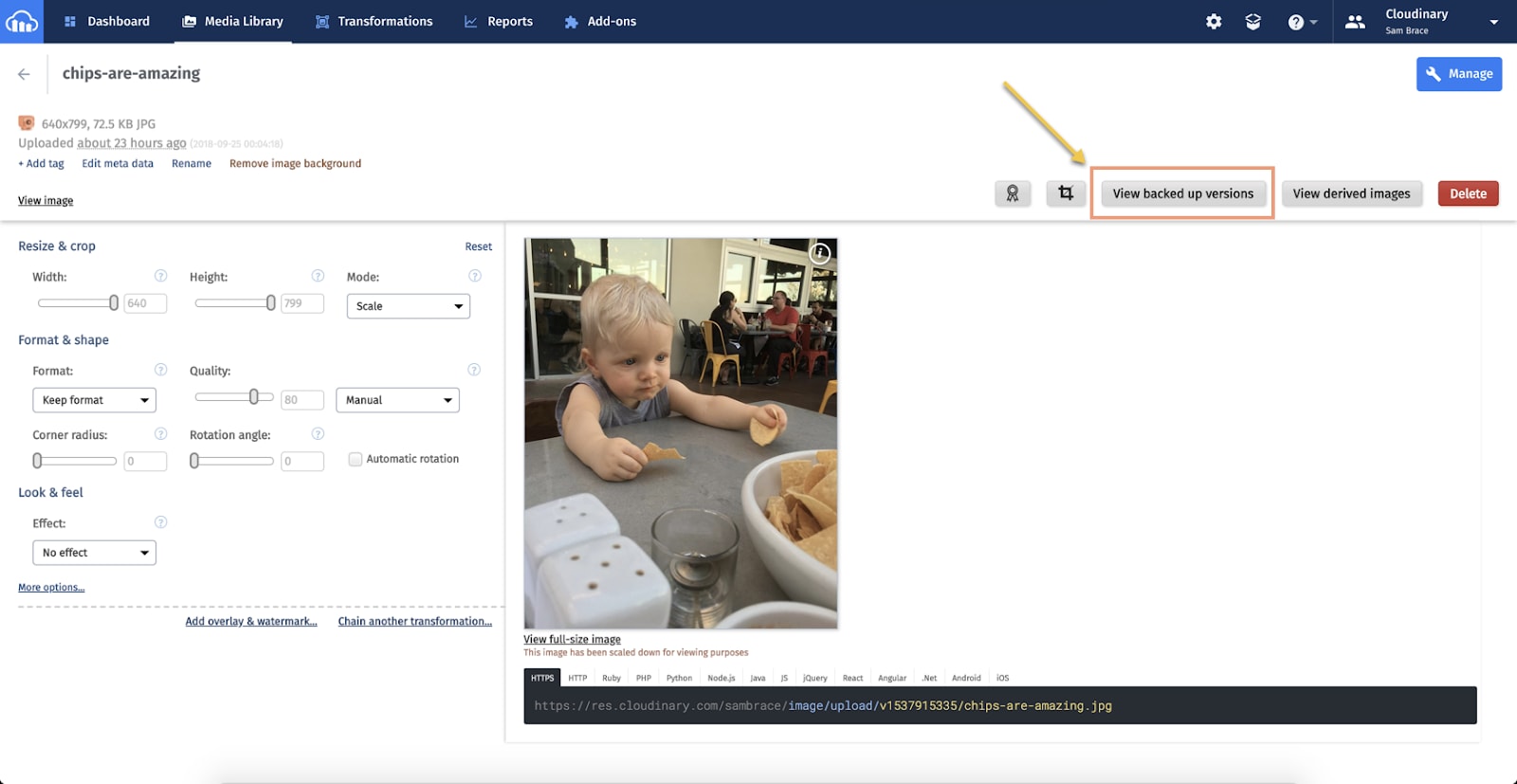 A pop-up window labeled Backup versions will appear, displaying the current and previous versions of the asset. Each version has details about its version number, upload date and time, as well as its file size.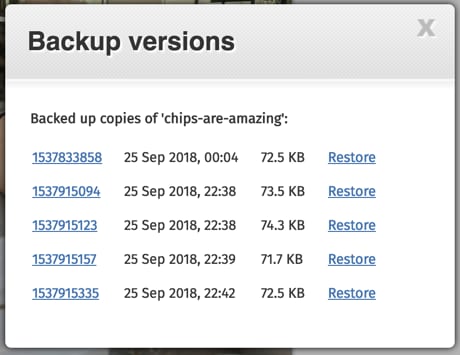 You can select any version number to preview that iteration in a new browser tab. If the file is not able to be displayed on your browser, it will be downloaded to your device.
Once you have done this and verified that this is the version you want to restore, select its associated Restore option.
Go back to the top of the tutorial.
---
Additional Resources
Many of the steps shown in this tutorial are similar to those for retrieving deleted files. We recommend reviewing our tutorial on that topic to become more well-versed on scenarios with our backup system.
If you are interested in learning how to restore assets via our Admin API, we also have documentation on that feature.
And of course, feel free to send us a ticket if you have any questions about this process. We're here to help you be successful with your projects.
Go back to the top of the tutorial.